Radiating cables & accessories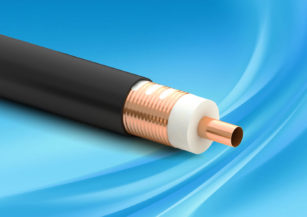 Our radiating cables, sold under the brand name EUCARAY®, allow very homogeneous, uninterrupted and reliable radio communication in confined areas.  EUCARAY® cables offer the best transmission characteristics and are the optimal choice for the needs of modern and demanding radio communication systems as VHF, emergency services (TETRA), railway (GSM-R), mobile radio to LTE (MIMO), WLAN and 5G. Read more
Our EUCARAY® cables with patented slot design offer first-class transmission characteristics thanks to optimized coupling loss and low longitudinal attenuation.
Radiating cables are usually used where conventional radio communication with antennas is difficult or impossible.  Especially in communication systems where an antenna does not provide sufficient coverage or cannot be used due to lack of space.  The field of application of radiating cables is therefore often referred to as "confined area". Due to their design and radiation characteristics, the radio coverage of radiating cables is limited to the area in their direct environment.
Typical applications for our radiating cables are today road, metro and railway tunnels, mines, buildings and underground car parks, oil platforms, warehouses and logistics centres as well as wind power plants.  They are also being used more and more in industrial automation, in aircrafts, in ships, in trains and in control and measurement environments such as clean rooms.
Eupen Cable offers a broad range of both broadband and frequency band optimised EUCARAY® radiating cables:
LSC            cables for applications up to 1 GHz
RMC          broadband cables for applications up to 2.7 GHz
RMC          "T" "A" Series cables optimized for TETRA applications (380 to 470 MHz)
RMC          "B" "A" Series cables optimized for GSM-R & TETRA (like "T" and 870 MHz)
RMC          "E" "A" Series broadband cables optimized for LTE (up to 2700 MHz)
RMC          "G" "A" Series broadband cables optimized for LTE & 5G (up to 3.8 GHz)
RMC          "CL" & "CH" cables optimized for WLAN (2.4 GHz and 5.2 – 5.8 GHz)
Optionally these cables are also available with integrated messenger wire. In addition, Eupen Cable offers the appropriate high-quality connectors along with cable preparation tools and fastening solutions for every coaxial cable size.
Please also visit our website on EUCARAY® Radiating Cables:
Radiating cables and accessories - All datasheets