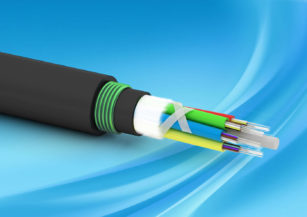 Since 1995, we produce fibre optical cables. Our product portfolio is constantly being expanded and adapted to changing market requirements. Among others, we manufacture mini and micro fibre optical cables on state-of-the-art production facilities. We process all common single or multimode fibres according to international standards. Read more
Our product range includes outdoor or universal (indoor-outdoor) cables as well as special constructions with, for instance, metallic or aromatic rodent protection or with an Aluminum laminated Polyethylene outer sheath. We are also producing metal free aerial dielectric self-supporting cables (ADSS) or cables with reversal point marking.  Furthermore, we can offer fibre optical cables with various styles of steel armour. Cable constructions following specific customer requirements are also belonging to our product portfolio.
Our mini and micro fibre optical cables are characterized by an excellent blow-in behaviour into the various micro-duct systems. As a result, our fibre optical cables meet the demands for the deployment of the Next Generation Access (NGA) networks like FTTC, FTTB and FTTH.
Whether you are looking for an outdoor or for a universal cable in accordance with the European Construction Products Regulation (CPR), we can supply a wide range of standard cables from stock.  We can also design, calculate and produce special constructions for your project within the shortest time.
The fibre optical cables are manufactured in our subsidiary Kabelwerk Rhenania GmbH in Aachen, Germany. Close
Fibre optical cables - All datasheets