Eupen Cable – leading cable manufacturer in Europe
Eupen Cable is the most traditional but still the largest business unit of Kabelwerk Eupen AG and a European leader in the production of cables and wires of various types. Our more than one hundred years of experience have resulted in a broad and high-quality product assortment.  This ranges from medium-voltage and low-voltage cables, control and instrumentation cables, railway signal cables to telecommunications cables, and ensures a secure energy supply and communication in modern industrial society.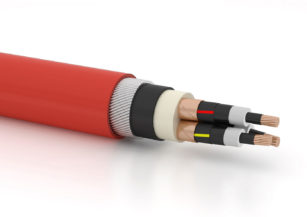 Specialties include halogen-free safety cables with enhanced fire properties, with the objective of increasing the safety in buildings, tunnels and nuclear power plants. It also features airfield lighting cables or radiating coaxial cables for indoor radio coverage. In the field of telecommunications, we also carry an extensive product range consisting of copper telecommunication cables, fiber optic cables, coaxial cables, hybrid cables and accessories.
The insulation and jacket compounds for our products are also partly developed in Eupen. The cables comply with national or international standards or are manufactured according to specific customer specifications. Compliance with high quality and safety requirements is a binding maxim.
A multilingual team of sales, product management and design engineers supports and advises customers from all over the world. These include OEM and plant manufacturers, industrial customers, infrastructure and network operators, specialised installation and assembly companies and wholesalers.
Eupen Cable carries a very wide range of products from stock, in order to serve our customers quickly and from one source.
Visit of the German-speaking heads of state in Eupen
On September 12th we had the honor of receiving the heads of state of the German-speaking countries in Eupen. At the invitation of our King Philippe, we were able to tour Federal President Frank-Walter Steinmeier (Germany), Grand Duke Henri (Luxembourg), Hereditary Prince Aloys (Liechtenstein) and Federal President Alexander Vanderbellen (Austria) through our pipe division on the topic of circular economy.
For us, the visit was a great honor and a great confirmation of our work!
We would like to take this opportunity to thank everyone involved.