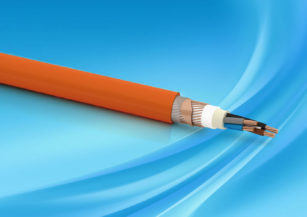 Fire protection in buildings places ever more stringent requirements on their main components, and thus, also on cables and wires. Particular emphasis is put on fire propagation and smoke emission of the cables. Eupen Cable has a considerable expertise in this field and has since the 1980s constantly enlarged its portfolio of halogen-free and flame retardant safety cables with or without circuit integrity. Eupen Cable's safety cables are sold under the brand name EUCASAFE®. Read more
The European Commission recognized the need for higher safety for buildings, and thus, for the people and the goods present inside. Consequently, safety cables were taken over into the European Construction Products Regulation (CPR) and received uniform classification under EN 13501-6. According to EN 50575, the cables need CE marking and a declaration of performance (DoP), which can be easily downloaded from our "DoP Finder".
Safety cables with circuit integrity or other types which do not fall under the European Construction Products Regulation (CPR) will still be tested and classified in accordance with national or international fire tests like for instance EN/IEC 60332-1, EN/IEC 60332-3 or EN/IEC 61034.  Furthermore, in case of a fire hazard, it is essential for the evacuation and fire fighting processes, that the safety-relevant devices such as fire detectors, emergency lighting, lifts for the fire brigade or water supply for fire fighting, keep on fulfilling their function.
For this special application, Eupen Cable is not only offering solutions with circuit integrity complying to pure cable test standards such as EN/IEC 60311 or EN 50200, but also according to comprehensive cable system tests as per DIN 4102-12. With this test method, not only the cable itself is tested but also the cable support system an in a true-life test set-up.
We are pleased to offer technical advice and support to our customers regarding the choice of the suitable cable support system. All our support system approvals are available online. Our search engine EUCASAFE® E30/E90 Systemconfigurator  will help you to find the appropriate support system and the corresponding "Allgemeines bauaufsichtliches Prüfzeugnis" or "AbP" ("General building inspection approval"). Close