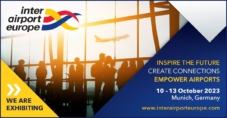 inter airport Europe
As a private, independent and family owned company, EUPEN is a leading European cable manufacturer producing a full range of cable products at one single site :
FAA primary and secondary AGL cables, along with primary connectors and secondary junction boxes. Cables according to other standards or customer's specification on request.
Please visit us at our stand B5-1142 in Munich, Germany.

CommunicAsia 2023
Kabelwerk EUPEN is pleased to announce its participation in the upcoming CommunicAsia exhibition, where it will present its portfolio of EUCARAY(r) radiating and coaxial cables, including its innovative 5G solutions. The company specialises in providing high quality coaxial cables for in-building, railway and metro projects. If you are interested in meeting with industry professionals, please visit us at our stand 4F3-14 in Singapore.
Trade fair
Kabelwerk EUPEN AG at InnoTrans 2022 Berlin, the world largest trade fair for transport technology.