Stralende kabels & toebehoren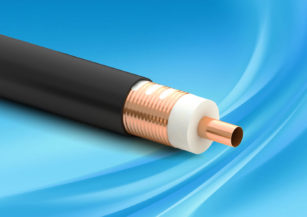 Onze stralende kabels, die op de markt worden gebracht onder de merknaam EUCARAY® maken een zeer homogene, ononderbroken en betrouwbare radiocommunicatie in gesloten ruimtes mogelijk. Van VHF over beveiliging (TETRA), spoorwegen- (GSM-R) en mobiele radio tot LTE (MIMO), WLAN en 5G, onze stralende kabels bieden de beste transmissie-eigenschappen en zijn de optimale keuze voor moderne en veeleisende radiosystemen. Verder lezen
Onze EUCARAY® kabels, met een gepatenteerd sleufontwerp, bieden eersteklas transmissie-eigenschappen dankzij een geoptimaliseerd koppelverlies en een lage langs-demping.
Stralende kabels worden over het algemeen gebruikt daar waar conventionele radiocommunicatie met antennes moeilijk of onmogelijk is. Vooral in communicatiesystemen waar een antenne niet voldoende dekking biedt of niet kan worden gebruikt vanwege ruimtegebrek. Het toepassingsgebied van stralende kabels wordt daarom in het vakjargon dan ook vaak aangeduid als "Confined Area" wat zich vertaalt in "beperkt gebied". Door het ontwerp en de stralingseigenschappen dekken stralende kabels in feite slechts een beperkt gebied in hun directe omgeving met radio af.
Typische toepassingen voor onze stralende kabels zijn tegenwoordig onder meer weg-, metro- en spoorwegtunnels, mijnen, gebouwen en ondergrondse parkeergarages, olieplatforms, magazijnen en logistieke centra en windturbines.  Ze worden ook steeds vaker gebruikt in de industriële automatisering, in vliegtuigen, schepen, treinen en in controle- en meetomgevingen zoals clean-rooms.
Eupen Cable biedt een breed scala aan zowel breedband- als band-geoptimaliseerde EUCARAY® stralende kabels:
LSC                          Kabels voor toepassingen tot 1 GHz
RMC                        Breedbandkabel voor toepassingen tot 2,7 GHz
RMC "T"                  "A" serie kabel geoptimaliseerd voor TETRA-toepassingen (380 tot 470 MHz)
RMC "B"                  "A" serie kabel geoptimaliseerd voor GSM-R & TETRA (zoals "T" en 870 MHz)
RMC "E"                  "A" serie breedbandkabel, geoptimaliseerd voor LTE (tot 2700 MHz)
RMC "G"                  "A" serie breedbandkabel, geoptimaliseerd voor LTE & 5G (tot 3,8 GHz)
RMC "CL"&"CH"    Kabel geoptimaliseerd voor WLAN (2,4 GHz en 5,2 – 5,8 GHz)
Optioneel zijn deze kabels ook verkrijgbaar met geïntegreerd trekkoord. Eupen Cable biedt bovendien voor elke coaxkabel ook passende hoogwaardige connectoren, inclusief montagegereedschappen en bevestigingsoplossingen.
Bezoek ook onze Website voor EUCARAY® stralende kabels:
Stralende kabels & toebehoren - Alle datasheets