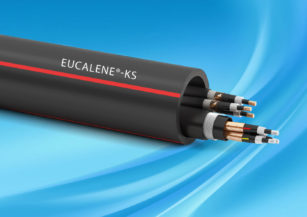 Eupen Pipe is producing PE and PVC pipes for the protection of cables and wires. They can be used in all areas of general construction and civil engineering, in road construction and also in the construction of tunnels and tracks. Our cable protection solutions offer excellent mechanical resistance and are fully watertight. Our product range comprises protection pipes for medium or low voltage cables as well as for telecommunication, coaxial and fibre optical cables. Read more
We offer a wide range of cable protection pipes suitable for laying in the ground as well as for use in buildings.
For industrial applications and direct burial, we offer pipes made of the particularly resistant material PE100-RC. These pipes are especially well-suited for alternative laying methods like ploughing and mailing, relining and horizontal directional drilling and open trench installation without sand bed. They are very easy to handle thanks to their high flexibility and their light weight. They offer a high chemical resistance, water tightness and excellent mechanical properties.
The grooved inner wall of our protection pipes for fibre optical cables ensure an optimal blown-in  behaviour and allow maximum blow-in lengths.
For domestic wall installations, we offer PCV electrical pipes as well as halogen-free pipes for special requirements in case of fire. Close
Cable protection pipes - All datasheets