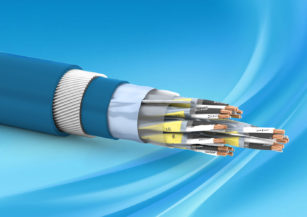 Modern industrial plants set high demands on their main components. Instrumentation, and consequently the cables for measurement and control technology, play a vital role. To designate the product group instrumentation cables, we choose the abbreviation "MSR" which stands for "Measuring-Steering-Regulating". Read more
We are offering a broad range of instrumentation cables according to various standards  such as EN 50288-7, VDE 0815 and NF M 87-202 or following customer specifications. Eupen Cable is also able to customize the cable design. We can offer instrumentation cables in the following designs:
Conductors: solid (class 1), stranded (class 2) or flexible (class 5) bare or tinned conductors.
Insulation: Polyethylene (PE) or cross-linked Polyethylene (XLPE) or Polyvinylchloride (PVC). If circuit integrity is required, we can offer a ceramic-forming insulation compound or a combination of Mica tape and XLPE.
Stranding of the insulated cores: in pairs, triples or quads.
Screen: with individual or overall screen (aluminum laminated foil, copper braid or tape).
Armour: with steel tape, steel wire or steel wire braid.
As special construction with a lead sheath as protection against contaminated soil or against aggressive chemicals such as acids, bases, aliphatic or aromatic hydrocarbons.
Outer sheath: Polyvinylchloride (PVC) or halogen-free compound for special requirements in case of fire.
Our "Construction guideline" can be a useful help to specify the required product and thus simplify the coordination between the customer and Eupen Cable. Close
Instrumentation cables - All datasheets