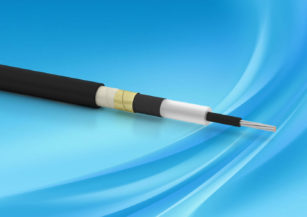 Takeoff and landing of an airplane are the most critical flight phases and set the highest demands on the pilots and on the technology in general. For this reason, a top-performing and fail-safe lighting of the runways and taxiways is of vital importance. Primary cables along with the appropriate connection technology and secondary cables from Eupen Cable are the guarantee for fault-free and permanently working runway lighting. Proven in service at more than 3000 airports worldwide! Read more
In close cooperation with the most reputable suppliers of standardized airfield lighting systems, and in consideration of the FAA standards, Eupen Cable developed its first airfield lighting cables almost 50 years ago. Since that time, we continuously adapted our products to all amendments of standards and to ever more increasing customer requirements.
The primary airfield cables with a coaxial construction are designed for a voltage level of max. 5 kV.  They feed and control each single transformer of the airfield lighting circuit.  The primary cables are available in different versions. Customers can chose cross sections from 6 up to 16 mm² (or AWG 8 and AWG 6) as well as screens made of brass or copper tapes or a copper braid. The secondary cables are used for the connection of the lights on the secondary side of the transformer. They are also available in different versions, depending on application and installation method.
Our high-quality "system solution", consisting of cables and the appropriate connection technology, has proven to be particularly efficient.  Specially designed to fit its primary cables, Eupen Cable offers resin filled connectors (Type B according to FAA AC150/5345-26) in "plug & play" technology, as well as resin filled junction boxes and heat shrink splices.
The use of our stripping tools, allows a fast, clean and precise cable preparation and ensures a reliable and long-lasting connection. Close
Airfield lighting cables - All datasheets