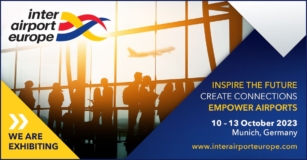 As a private, independent and family owned company, EUPEN is a leading European cable manufacturer producing a full range of cable products at one single site :
FAA primary and secondary AGL cables, along with primary connectors and secondary junction boxes. Cables according to other standards or customer's specification on request.
Please visit us at our stand B5-1142 in Munich, Germany.
From 10 – 13 October 2023, inter airport Europe, the 24th International Exhibition for Airport Equipment, Technology, Design and Services takes place at the Munich Trade Fair Centre in Germany.
inter airport Europe is the world's leading airport exhibition and covers all areas of airport-related technology, equipment and services, all in one place.
As part of the TERMINAL segment, the show offers solutions and equipment for the construction and operation of terminal buildings, the architectural design, equipment and planning stage of the airport.
The DATA area covers airport IT systems, data management solutions as well as connected systems and IT processes to handle passengers, operations as well as air traffic.
The RAMP segment covers ground handling, ground support equipment, runway construction and installations.