The right foam for premium mattresses?
Your solution: high-tech quality that regulates the sleeping climate!
EUCAFEEL® is our high-end special foam for your premium products. The special thing about it: The innovative foams from EUCAFEEL® are extremely open-celled. With their outstanding moisture and warmth regulation, high breathability and optimum pressure relief, EUCAFEEL® foams achieve the ideal combination of factors for perfect sleeping comfort.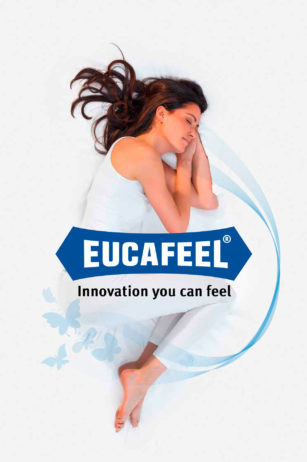 No, the regulated sleeping climate prevents moisture!
One of the properties that single out a high-quality foam is its ability to regulate the sleeping climate. Here EUCAFEEL® really hits the mark as its foams are extremely open-celled and, due to their chemical composition, hydrophilic at the same time. These features have been proven to enable EUCAFEEL® to absorb almost four times more moisture than conventional foam mattresses. This eliminates the possibility of moisture accumulation on the mattress surface and on medical padding, thus guaranteeing dryness!
If EUCAFEEL® is compared to conventional or visco foams, the innovation in terms of ventilation becomes particularly evident: The air permeability at 0.2 mm WC is significantly higher than with all other alternative products.
A dry night's sleep for your customers or patients
Everyone perspires and every mattress comes into contact with moisture. But everyone wishes to sleep in a dry environment because only then can you have the rest and recuperation that you desire. In comparison to conventional brands, EUCAFEEL® offers real advancement and ensures a very fresh and pleasantly dry environment.
| Material | EUCAFEEL® | Conventional foams | Visco |
| --- | --- | --- | --- |
| Air permability | 0,2 mm WS (water column) | 2,0 mm WS (water column) | 2,5 mm WS (water column) |
Is warmth ideally controlled?
Yes, thanks to the open cell structure!
Alongside the moisture-regulating mattress ventilation, a foam mattress is always assessed on how well it takes up and dissipates body heat. In this aspect EUCAFEEL® also scores top marks. Tests have shown that heat absorption is significantly lower and the distribution of heat is much more even than with conventional foams and visco foams. This enhances the feeling of sleeping in a fresh environment.
Your customers feel cosy and comfortable
Everyone loses warmth, every night, all the time. But warmth does not have to be heat, because a mild sleeping climate is our objective. Ideal sleep is the result of optimum warmth regulation. EUCAFEEL® offers the best possible dissipation of body heat and provides a pleasant and comfortable feeling.
Harmony of body and mattress?
That comes from ideal pressure relief!
Premium mattresses not only provide an ideal sleeping climate, they also adapt – no matter who is sleeping on them. With EUCAFEEL®, foams, your products will offer ideal pressure relief. The cell structure – extremely open and fully inhomogeneous – is the reason for scoring peak values during laboratory tests: EUCAFEEL® comes off significantly better than conventional foams and visco foams. For even more comfort, for even better sleep and for satisfied customers!
Your customers decide
Given that every person is an individual and everyone's body is built differently, every one of us therefore needs a mattress that sleekly fits to the body, that yields where it must yield and that provides supports where support is needed. Flexible foam for a body in balance – innovative foam for a gentle night's sleep. Put simply: innovation you can feel!
Are loads compensated for?
Elasticity guarantees resilience!
As experts you know: elasticity makes the difference! Even if all the climatic factors necessary for sleep are ideal, the quality of the foam always depends on its elasticity. When it comes to quality, EUCAFEEL® takes the lead position. Even in the case of rebound resilience, EUCAFEEL® achieves significantly better values (see below) than conventional foams. The results are first class, particularly for soft foams such as those from EUCAFEEL®. The huge elasticity guarantees full freedom of movement for the user.
Excellent results are also guaranteed for breaking elongation. When tested, EUCAFEEL® achieved a result that is 90% better than conventional foams – a very important factor as this demonstrates the excellent stability of the cells. Consequently, there is no hairline cracking even with heavy use. The quality of the foam remains high – and permanently!
| Physical value | EUCAFEEL® | Conventional foams | Tested standard |
| --- | --- | --- | --- |
| Foam reference | L1313 | L0371 | |
| Hardness in Newton (at 25 %-40 %-65 %) | 45 N/65 N/120N | 70 N/100 N/205 N | ISO 2439 method B |
| Hardness in kPa (at 40 %) | 1,50 kPa | 2,40 kPa | ISO 3386-1 |
| Rebound resilience | 62 % | 59 % | DIN EN ISO 8307 |
| Physical value | EUCAFEEL® | Conventional foams | Tested standard |
| --- | --- | --- | --- |
| Foam refrence | L1312 | L0559 | |
| Net bulk density | 43,5 kg/m³ | 41,0 kg/m³ | ISO 845 |
| Hardness in Newtons (at 25 %-40 %-65 %) | 48 N/62 N/120 N | 78 N/105 N/220 N | ISO 2439 method B |
| Hardness in kPa (at 40 %) | 1,50 kPa | 2,67 kPa | ISO 3386-1 |
| Breaking elongation | 205 % | 115 % | ISO 1798 |
Your customers or patients can move freely
Every period of sleep is accompanied by movement and every movement means a load. This does not affect the high-quality foams from EUCAFEEL®: They absorb natural human sleep movements and in doing so enable optimum freedom of movement during sleep.
EUCAFEEL® foams are particularly hard-wearing and form the basis for effective regeneration. In short, they offer innovation you can feel!
The EUCAFEEL® product world
| Quality levels | Product | Bulk density (kg/m³) | Compression hardness (kPa) |
| --- | --- | --- | --- |
| Plus | HT4515 | 45 | 1,5 |
| Plus | HT4525 | 45 | 2,5 |
EUCAFEEL® – Innovation you can feel.